ANR-Lab Seminar "Nature and mechanisms of mass behavior: from classical sociology to contemporary theoretical models"
Event ended
On Monday, November 2, at 4:30 p.m., the International Laboratory of Applied Network Research's regular scientific seminar will be held, where a Ph. D. thesis of Stanislav Moiseev, ANR-Lab's Junior Research Fellow, will be presented.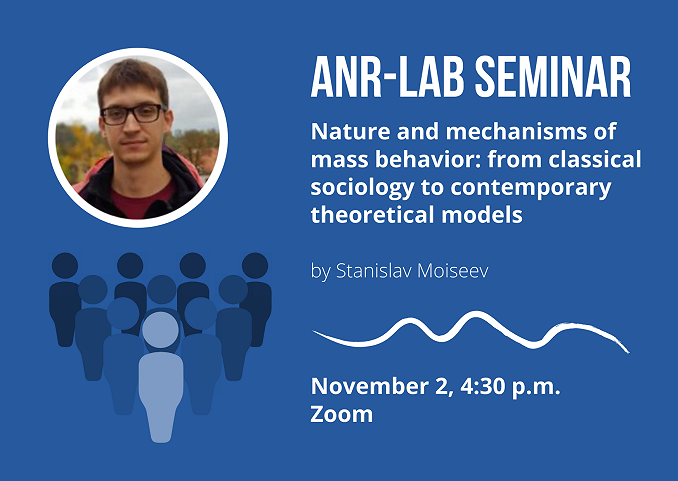 The dissertation examines the conceptualization of mass behavior and analyzes the methodological possibilities of its empirical study. The work is based on the interdisciplinary tradition of mass behavior research, modern theories of the propagation of ideas and behavior, and developments in the field of modeling these processes and the use of non-reactive/behavioral data ("digital traces") in social research. The study highlights the critical stages in developing scientific ideas about mass behavior, describes the context in which modern mass phenomena exist, and develops a refined conceptualization of mass behavior, which includes its definition and theories about its nature and mechanisms. Mass behavior's proposed concept is compared with the images of "collective behavior" and "collective action" and modern ideas used to describe social communities. The paper describes current opportunities for studying mass behavior and suggests a methodological strategy for studying mass behavior in the digital environment. The work ends with assessing specific aspects of the proposed strategy implementation using the example of analyzing participants' behavior in the virus charity campaign Ice Bucket Challenge.
The seminar language is Russian. The meeting will be held online on the Zoom platform.

If you would like to participate in the seminar, please write to the research assistant of the laboratory Aryuna Radnaeva (aradnaeva@hse.ru, +7 (910) 416-72-82).