ANR-Lab Seminar "Blockmodeling for the analysis of social structures: the study of the interaction of St. Petersburg sociologists"
Event ended
On April 30, 8 p.m. we will have an online seminar, where ANR-Lab members Tamara Shcheglova, Aryuna Radnaeva and Daria Maltseva will talk about preparing an article on the theory and methodology of blockmodeling with an example of its practical implementation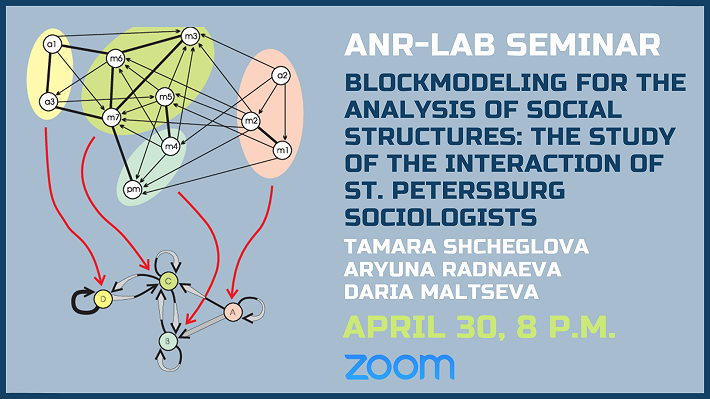 The blockmodeling method, which is being developed since the 1980s, is focused on the clustering of network data. It allows selecting groups of nodes in the network with similar patterns of relationships with other nodes, as well as interpreting the structure of relations between the obtained clusters. However, the use of blockmodeling in the Russian practice of social network research is quite rare.

In this regard, we are currently preparing an article aimed at the Russian audience of social scientists, where we talk about the history of the development of the blockmodeling method and its theoretical background, present its detailed description and outline the prospects for use in sociological research.  As an example of the implementation of blockmodeling, we present the results of the analysis of real sociological data collected in the framework of the research project "Institutional Dynamics, Economic Adaptation and Points of Intellectual Growth in the Local Academic Community: St. Petersburg Sociology after 1985" (Sokolov et al. 2010), kindly provided to us by our  colleagues. The main results of the upcoming article will be presented at the seminar.
Due to increased Zoom-bombing, we will not allow external visitors to the meeting without registration. To attend, please register here. A link to the conference will be sent to registered participants before the seminar.


We will be glad to see you at our seminar!