ANR-Lab Seminar "Data Envelopment Analysis as a Tool to Evaluate Marketing Policy Reliability and Effectiveness"
Event ended
On Monday, October 19, at 5 p.m., the regular scientific seminar of the International Laboratory for Applied Network Research will be held, where a joint paper of Dmitry Zaytsev, ANR-Lab's leading research fellow, and Valentina Kuskova, laboratory head, will be presented.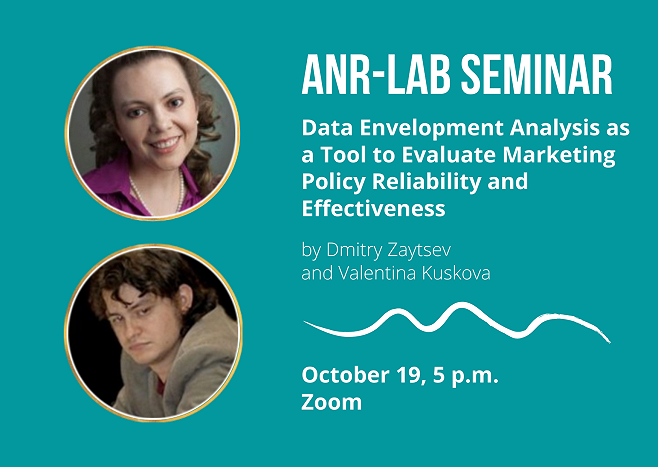 The paper "Data Envelopment Analysis as a Tool to Evaluate Marketing Policy Reliability" appeared in the book "Reliability and Statistical Computing," recently published by Springer (2020, pp. 289 - 304).
The authors describe the Data Envelopment Analysis (DEA) research design and its applications for effectiveness evaluation of company marketing strategies in the paper. They argue that DEA is an efficient instrument for academia and industry to compare a company's business performance with its competitors. This comparison provides the company with information on the closest competitors, including evaluating strategies with similar costs, but more efficient outcomes (sales). Furthermore, DEA provides suggestions on the optimal marketing mix to achieve superior performance. 
The language of the seminar is English. The meeting will be held online on the Zoom platform. Registered participants will receive a letter with an invitation to the video conference. 
Registration for the seminar is available here. We will be glad to see everyone!