Our session at SUNBELT 2017 in Beijin
Members of the ANR-Lab have organized its own session "SNA in Russia: Progress and Prospects" at the XXXVII SUNBELT CONFERENCE of the INTERNATIONAL NETWORK FOR SOCIAL NETWORK ANALYSIS, which took place in Beijin, China from May 30 till Jine 4.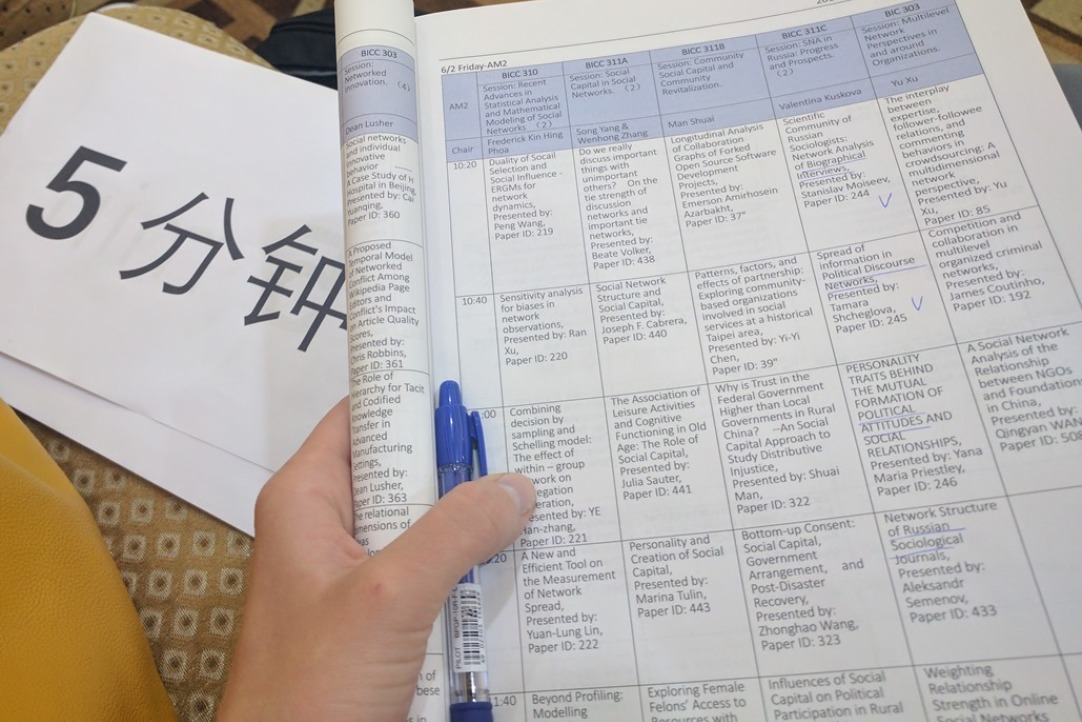 Traditionally the session was chaired by the head of ANR-Lab Valentina Kuskova. During the session, the members of the Lab made the following presentations:
Antonina Milekhina -  Solving the problem of ineffective subsidiary: the impact of intraorganizational networks
Daria Maltseva - Mapping the community of network researchers in Russiia: structure and thematic agenda
Dmitry Zaytsev - Modelling the Impact of Mass Protests of 2010s on Political Change (by using Data Envelopment and Social Network Analysis)
Elena Artyukhova - Regional migration in Russia from a network perspective: identifying key migration flows between regions
Stanislav Moiseev - Scientific Community of Russian Sociologists: Network Analysis of Biographical Interviews
Tamara Shcheglova - Spread of information in Political Discourse Networks
Yana Maria Priestley - Personality traits behind the mutual formation of political attitudes and social relationships
Aleksandr Semenov - Network Structure of Russian Sociological Journals
Ilia Karpov - Weighting Relationship Strength in Online Social Networks Based on Text Clustering
Besides that, Ilia Karpov made a presentation "Modelling Online Social Network Users by Attitude to Key Events" at session "Advances in Network Methods and Modeling".
More detailed information can be found in the conference program.