ANR-Lab at XXXIX Sunbelt Social Networks Conference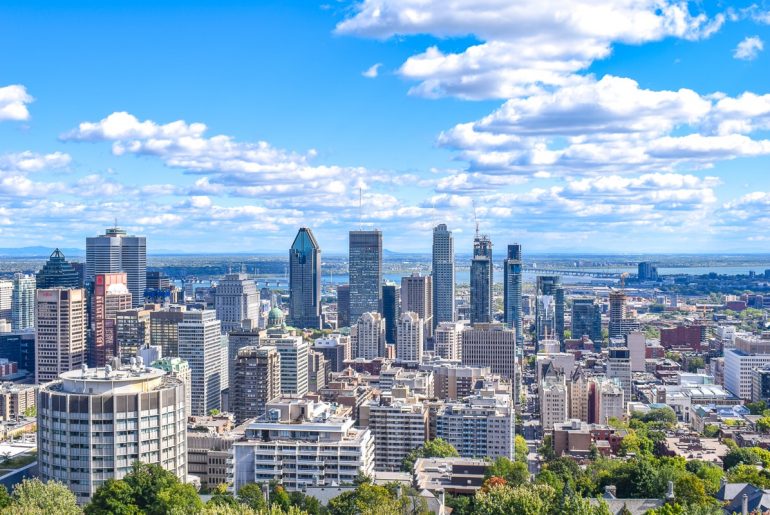 On June 18-23, members of the International Laboratory for Applied Network Research took part in XXXIX Sunbelt Social Networks Conference of the International Network for Social Network Analysis (INSNA), which took place in Montreal, Canada.
At the conference, Vladimir Batagelj and Daria Maltseva have conducted the 6hrs workshop "Analysis of bibliographic networks". ANR-Lab members presented the following reports:
Ekaterina Bulycheva, Daria Maltseva: Genesis and the Transformation of the Sociological Ideas since the Second Half of the 20th Century: A Bibliometric Analysis
Vladimir Batagelj, Daria Maltseva: Authors in the Field of SNA: Derived Networks and Temporal Analysis
Daria Maltseva, Vladimir Batagelj: Journals in the Field of SNA: Derived Networks and Temporal Analysis
Stanislav Moiseev: The Content and the Form: Conceptualizations of Mass Behavior as a Source for Enrichment and Interpretation of Network Collective Dynamics Models
Marina Kalinina, Vladimir Kuznetsov, Valentina Kuskova: Interbank Exposures: An Empirical Examination of Credit Risk Spillover Effect Between Financial Institutions in Russian Federation from 2000 to 2017
Valentina Kuskova, Elena Artiukhova, Antonina Milekhina: Organizational Networks Revisited: Predictors of Headquarters-Subsidiary Relationship Perception
Grigoriy Khvatskiy, Dmitry Zaytsev, Valentina Kuskova: The Power of Network Analysis and Modeling for Social Movements Studies: Increasing Importance of the Protest Online Mobilization
Grigoriy Khvatskiy, Dmitry Zaytsev, Nikita Talovsky: Network Analysis Methodology of Policy Actors Identification and Power Evaluation (The Case of the Unified State Exam Introduction in Russia)
Nikita Talovsky, Dmitry Zaytsev, Grigoriy Khvatskiy: The Role of Policy Advisors in the Formation of Innovation Network (The Case of Russian STI Policy)
Nikita Talovsky, Gregory Khvatsky, Dmitry Zaytsev: Using Social Network Analysis for Policy Impact Evaluation: Cases of Russian Education, Innovation, and Civil Society Policies
Oxana Mikhaylova: Semantic Network Analysis of the Satanic Milieu in the Russian Social Network "Vkontakte"
Some of the Laboratory members have shared their impressions about the conference:
Oxana Mikhaylova: "Satanism is the belief in Satan or not? Who could be named Satanist in Russian social network "Vkontakte"? Answers to these questions and to the other ones on the Russian discursive satanic milieu were answered in my talk on the XXXIX Sunbelt Social Networks Conference of the International Network for Social Network Analysis (INSNA), that took place in June of 2019 in Monreal, Canada, where I presented the results of my Master`s Thesis. In my research, I investigate satanism from the sociological perspective in the Russian social context. Social network analysis (SNA) is significant for my study for several reasons. Firstly, networks help to visualize and as a result, systematize the theoretical approaches that are used in sociology for satanism explanation. Secondly, SNA helps to map the internet communities, it is possible to recognize the most and least important actors on the milieu and using clustering understand what subgroupings exist in the field; thirdly, semantic networks are useful for the construction of a dictionary of words that constitute Russian discourse on satanism. Dictionary formation allows differentiating between types of satanic discourses automatically. At the conference, I did not argue about the fourth reason for networks significance in my study of satanism, namely, the discourse network analysis of the juridical cases. I look forward to telling about that at the other conferences and in articles".
Daria Maltseva: "It was my fifth SUNBELT conference. Compared with the last year, this year conference was not as large as before - the organizers announced about 600 speakers (compared to more than 1000 in Utrecht last year) - and more focused on social sciences. At the same time, the agenda was quite solid: during five days, from 8.20 to 17.00, 7-8 sections proceeded in parallel, and it was not always easy to decide which of them should be chosen. I was personally very touched by the Lin and Sue Freeman Tribute, where many "fathers" and "mothers" of network analysis shared their memories of this couple and told stories from the beginning of their academic careers connected to them. The plenary reports of Katherine Faust and Kayla de la Haye, recipients of Simmel and Freeman Awards, respectively, were very informative and fascinating as well.
At the conference, me and prof. Vladimir Batagelj conducted a workshop on the Analysis of bibliographic networks, based on the data on publications in scientific journals and books, which allow to study the links between scientific works, journals, authors, organizations, counties, etc. Even though we had only two people showed up, the workshop was very useful and substantial as we managed to discuss in details the research tasks of our two participants. We also presented the results of our study on the development of social network analysis as a discipline at the section "Words and Networks" – Vlado was telling about the collaboration among the network researchers, and I was telling about the patterns of citations between the journals publishing articles on SNA. Our results show that starting from 1970s the number of articles published by single authors dropped down significantly, and that currently it is possible to distinguish a large number of unrelated, but closely collaborating with each other groups working in the field of network analysis. Articles in network analysis are being published in journals from various disciplinary areas — not only social sciences, but also computer sciences, physics, and general scientific journals — and Social Networks, the industry's main journal, acts as a connecting element between all these types of journals".
The International Sunbelt Social Network Conference is the official annual conference of the International Network for Social Network Analysis (INSNA). INSNA currently has over 1,000 members and more people than ever are interested in attending and presenting their work at Sunbelt conferences. For more info, visit the conference site.