We are at the International Network Conference Virtual-Sunbelt 2020
This year ANR-Lab held two organized sessions at the 40th Sunbelt Conference, which took place on July 13-17. For the first time in its history, the conference was held online due to the coronavirus pandemic.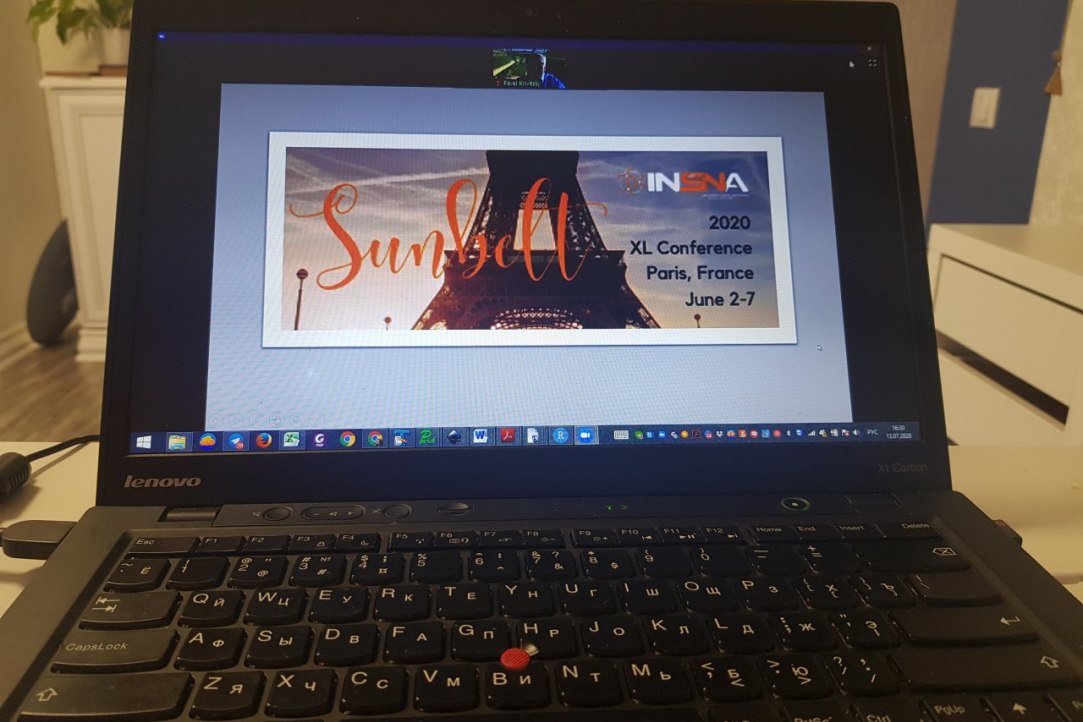 International Conference on Social Network Analysis Sunbelt is the official annual conference of the International Network for Social Network Analysis (INSNA). INSNA currently has over a thousand permanent members and a large number of attendees present their work annually at Sunbelt conferences. 2020 is a special year for social network analysts: the 40th anniversary of the Sunbelt Conference. The conference was supposed to be held in Paris, however, due to the coronavirus pandemic, the anniversary Sunbelt was held online.
This year ANR-Lab held two organized sessions at Sunbelt:
1. Session "Scientific Networks" (Anuška Ferligoj, Daria Maltseva)
Scientific networks studies have been developed in the areas of sociology of science, information science, scientometrics and bibliometrics. These studies can be characterized by variety of initial data sources, methodological approaches, and techniques. This session is aimed to demonstrate this diversity and comprehensive applicability of scientific networks studies to various scientific disciplines. We welcome papers covering the wide range of possible types of scientific networks measuring scientific communication, collaboration, fields' mapping and development in social and natural sciences. The session will build bridges between scholars who study scientific networks in national, international, interdisciplinary, and other diverse contexts. Papers in the session are expected to encourage the future research by addressing various topics on scientific networks across time and space, as well as discussing multilayer, multilevel and multimode networks in science.
2. Session "Policy Networks" (Valentina Kuskova, Dmitry Zaytsev)
During the last few decades, the interest in policy processes generated the number of formal theoretical explanation. Among them are the Advocacy coalition framework (Sabatier, Hank Jenkins-Smith 1993), Punctuated equilibrium theory (Frank R. Baumgartner and Bryan D. Jones 1993), Multiple streams approach (Kingdon 1984), Policy styles theories (Richardson et al. 1982), Policy design & Policy capacity framework (Howlett et. Al 2018), Pragmatic approach to public policy (Zittoun 2014), and some others. Each of them makes its own unique contributions explaining the multidimensional and complex nature of public policy and policy change; attempt to grasp the multiactor nature of policy-making. We welcome papers that use SNA to test a particular policy that models the complexity of policy-making as a conjunction of variety of actors and factors external to the policy actors' activity. The papers can use a variety of SNA techniques: policy networks visualizations, calculation of centrality measures, building social influence, and social selection models, ERGM models, longitudinal network analysis, multimode and multilevel networks. The special concern of this panel is to test, challenge, verify, and validate the current and developing theories of policy process.
Ten laboratory members and students and alumni of the MASNA master's programme took part in various sessions of the conference. The following reports were presented:
Vladimir Batagelj – An indirect approach for blockmodeling temporal networks
Anna Sokol, Dmitry Zaytcev, Valentina Kuskova – A bibliometric analysis of the ecological policy
Daria Maltseva, Vladimir Batagelj – Comparing two approaches to bibliographic networks construction
Gregory Khvatsky, Dmitry Zaytsev, Valentina Kuskova, Polina Lushnikova – Testing the Advocacy Coalition Framework by Document Analysis (the Case of Russian Civil Society Policy)
Rustam Kamalov, Valentina Kuskova, Dmitry Zaytsev, Polina Lushnikova – Network Science: Overview of the Field Using Bibliometric Network Analysis
Polina Lushnikova, Valentina Kuskova, Dmitry Zaytsev – Cross-efficiency of International Sanctions: Application of Data Envelopment Analysis and Network Methodology
Yulia Kozlova, Dmitry Zaytsev – Network Methodology Application to Civil Participation Studies in Russia
Lizaveta Charnenka – Network determinants of conflict in business organization
The conference program is available here.