ANR-Lab at the NetGlow 2022
On June 22-24, the conference "Networks in the Global World: Structures in Time. Relational Dynamics in European Societies and Beyond" was held. Laboratory staff presented their reports within the framework of thematic sessions.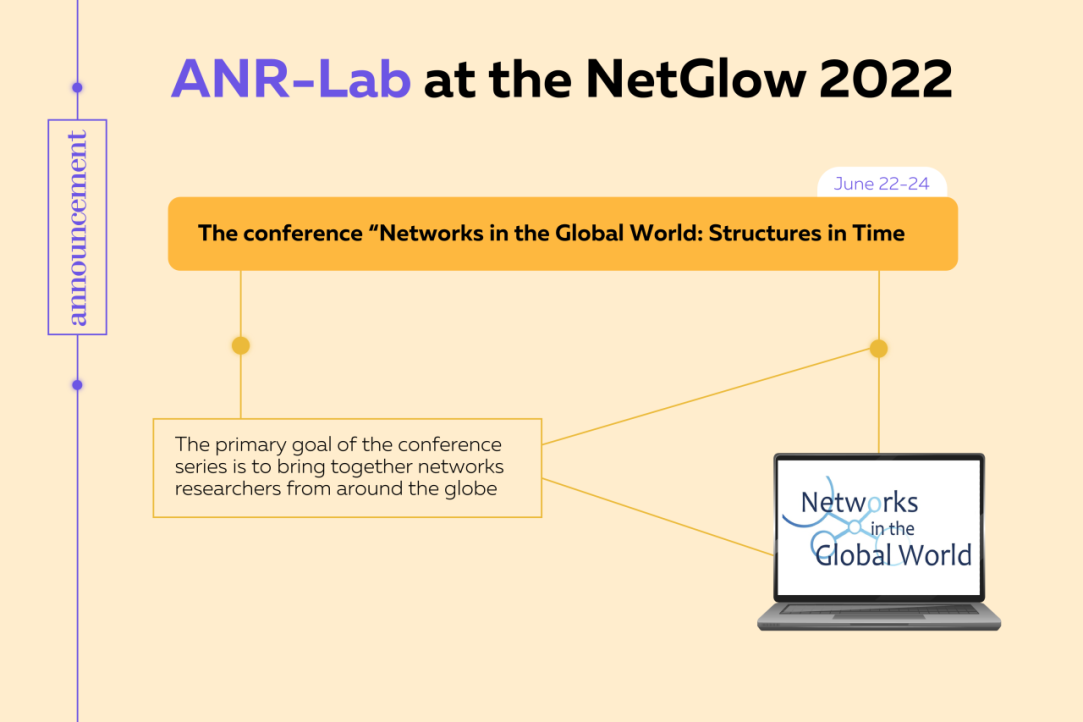 The primary goal of the 'Networks in the Global World' conference series is to bring together networks researchers from around the globe, to unite the efforts of various scientific disciplines in response to the key challenges faced by network scholarship today, and to exchange original research results.

Presentations by ANR-Lab members: 

Margarita Zhdankina, Viktoria. Kolesnikova, Sergey Romanov, Dmitry Rudyuk: Comparative Analysis of Topics Covered by Fake and Reliable News in the Context of the COVID-19 Pandemic
Daria Maltseva, Tamara Shcheglova, Aryuna Kim: Network Analysis of Collaboration in Russian Sociological Community
Aryuna Kim and Daria Maltseva: What Is Going On in the Field of Qualitative Social Network Analysis? 

Aryuna Kim
:
I participated in the NetGlow conference for the third time, the second time online. I was again at the Elisa Bellotti section with a talk about qualitative networks. This year I was pleased with the diverse selection of workshops. I joined a workshop on mixed methods with Betina Gollshtein, whom I finally met in person :) I'm really looking forward to the face-to-face format of the conference! 




Daria Maltseva: It's great that in such a difficult time, the conference again brought together a large number of leading foreign scientists, as well as Russian researchers working in the field of network analysis. The organizers, as always, managed to create a very interesting program with plenary presentations and thematic sections on various aspects of the study of networks, as well as a series of educational workshops. I participated in a workshop in my field of research - in the field of bibliometric analysis - and this experience was very useful for me.

 

Margarita Zhdankina: NetGlow turned out to be an amazing place to present the results of your research, because despite the difference in the age of the participants in the section and the complexity of the methods of analysis used, everyone was most interested in each other's work and very actively participated in the discussions without any bias. And if you then google who gave you feedback, it can even become a little scary from the level of this person, although the difference is not felt at all in the discussion).