Daria Maltseva is the new Head of ANR-Lab
Since April 2022, Daria Maltseva has become the Head of the International Laboratory for Applied Network Research. She took over the position of Valentina Kuskova, the founder and ideological inspirer of the laboratory. We talked with the "new" and "old" leaders - remembered how it all began, what the laboratory has achieved in almost 9 years of its existence, and what plans its employees have for the future.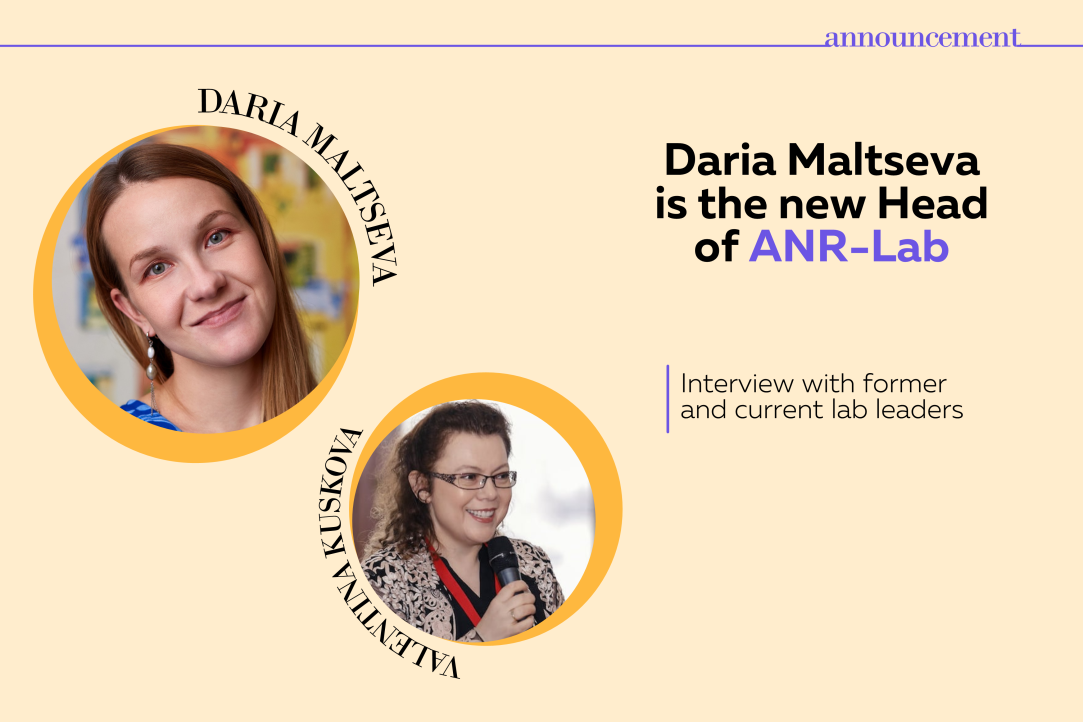 – Valentina, please, tell us about the creation of the laboratory: why, after many years spent in the USA, did you decide to open a laboratory at HSE?
– I came to Russia on a three-year contract, but stayed for 10 years thanks to the opportunities I had at HSE during that time. After a couple of years at the university, as part of my work as Associate Dean for Internationalization of the Faculty of Business and Management, I applied for an international laboratory competition to create a laboratory under the scientific supervision of Professor Stanley Wasserman. Wasserman is one of the world's leading scientists in the field of network analysis, and his application to establish a laboratory has been approved. I decided to extend my contract and stay at HSE for the sake of this laboratory, although at that time I already had another offer to the State University of New York.
– How has the laboratory been transformed over the years of its existence? What has been achieved?
– The beginning of the journey was difficult: our staff was small, and then no one knew anything about the networks – rather, it was such a "group of interests". Now we have full-time employees who are fully engaged in the analysis of social networks. We participate in leading scientific conferences on network analysis and publish in leading academic journals. We have opened a master's program in applied network analysis and are implementing commercial projects. The laboratory and its employees are known in other Russian universities and abroad.
– Why did you decide to leave the laboratory?
– The decision was personal. My son wanted to finish school and go to university in the States. I faced a difficult question: send him alone or move together. I decided that we would go together, and I started looking for a job in the States about a year ago. The decision was made easier because I knew that I had a reliable team that could not only save all our achievements, but also take the laboratory to a new level.
– What do you plan to do next?
– I will develop a research center at the University of Notre Dame (one of the Top 20 US universities), designed to establish a system of relationships between science and industry. Now this is a big problem, since many scientific studies are out of touch with life. It was difficult to find a job in the States, because the academic path that I went through in Russia differs from the classical academic trajectory in the USA. I have a huge experience in teaching and administrative work, which is not usually characteristic of academics. And in Notre Dame, I saw the non-trivial task of establishing a system in which scientists can create new knowledge at the request of the industry. I realized that the solution of this problem is a next step for my development. I am glad that I found a job that fits my experience and matches my career ambitions.
– What would you like to advise and wish for the new leader?
– Do not be afraid of failure and remember that if you do not try, nothing will work out. Daria has an excellent team, great academic experience, and good relations with HSE management. She has learned a lot during her time as my deputy, and I am sure she will do just fine. 
– Daria, how did you start your career in the laboratory?


– Before joining the laboratory, I worked in the industry of applied sociological research for quite a long time. Since 2014, I have been attending laboratory seminars as one of the participants in that "hobby group" that Valentina spoke about. After defending my dissertation on the topic of the network approach in sociology in 2015, I decided to take an academic track, and came to the laboratory for a small rate of a senior researcher. And exactly when I was ready to leave my applied career, Valentina invited me to become a full-time laboratory employee. After a while, I became the deputy head.
– What are your goals for the coming year?
– Of course, the main goal is to preserve the project and the team that is now under my leadership. This year is the end of the next, already the third, three-year cycle of the laboratory's activities, and of course, our plans include the preparation of reporting documents on activities for the period 2020-2022 and applying for a new cycle of activities in 2023-2025. We are also thinking about cooperation with Russian partners and strengthening the staff of the laboratory.
– What is the biggest challenge for you right now?
– I have never been the head of the laboratory before, and this, of course, is a very big responsibility. In addition, there are external challenges that are difficult to control. There will be a lot to learn, but I think the main thing is to keep a positive attitude and look for non-standard ways to solve all emerging issues. I believe in the laboratory team and I am sure that together we will cope with everything.
We wish Valentina success in building a new research center, and Daria in the further development of ANR-Lab! We look forward to the possibility of cooperation in future projects.